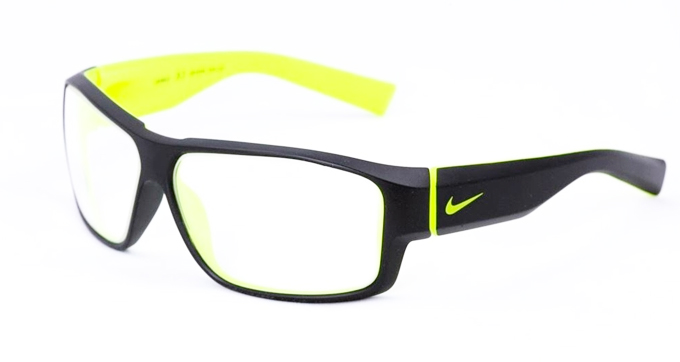 Radiation Eye Protection
In recent years, there has been an increased concern regarding occupational dose to the lens of the eye in interventional radiologists. "New data from exposed human populations suggest that lens opacities (cataracts) occur at doses far lower than those previously believed to cause cataracts." ¹
[www.sirweb.org/clinical/cpg/safety6.pdf] The latency period for radiation cataract formation appears to be inversely related to radiation dose.
Stylish and Functional Radiation Safety Glasses
Protecting the operator's eyes from scattered radiation is an important radiation safety consideration. For years, heavy and uncomfortable lead goggles were the only option for interventional radiologists. The increased awareness of radiation eye protection has resulted in new product offerings that blend the functionality of traditional leaded glasses with the style of designer eyeglass and sunglass frames.
These stylish Nike frames are the perfect addition to your radiation protection gear. Available in a wide-variety of color options and styles, you are sure to find a pair that will meet your needs. All Nike radiation safety glasses come standard with 0.75mm Pb lead equivalency SCHOTT S6HT glass lenses to ensure proper protection from ionizing radiation.
Sunglass Frames 
Nike Lava available in Blue Hero, Crystal Matte Dark Grey, Crystal Matte Pine Green, and Black
Nike Mercurial 6.0 available in Crystal Military Brown, Black, and White
Nike Mercurial 8.0 available in Yellow and Black
Nike Varsity available in Blue Hero, Matte Crystal, Black, and Red
Nike Reverse available in Blue Hero, Matte Crystal, Black, and Matte Black
Nike Brazen available in Grey Green, Red Blue, White Electric Yellow, Tortoise, and Matte Black
Nike Premier 6.0 available in Matte Dark Grey, Tortoise, and Matte Black
Nike Premier 8.0 available in Black and Matte Crystal Military Brown
Nike Charger available in Anthracite, Crystal Military Brown, Yellow, and Matte Black
Eyeglass Frames
Nike 7203 available in Matte Black
Nike 7107 available in Black and Grey
Nike 7108 available in Satin Black
Nike 7109 available in Satin Black
Nike 4251 available in Platinum 048 (Blue)
Eyeglass Frames For Men
Nike 8094 (Full Rim Metal Frame available in Matte Black)
Nike Stride EV0-708  (Full Rim Metal Frame available in either Black or Matte Black)
Nike 4210 )Full Rim Metal Frame available in Blue)
Nike 6042 (Full Rim Titanium Frame available in Matte Black)
 Eyeglass Frames For Women 
Nike Gaze 2 available in Matte Crystal Dark Grey, Matte White Mint, Tortoise Magenta, and White
Eyeglass Frames For Teens And Petite Adults 
Nike 5508 available in Black Grey, Electric Blue, and Satin Blue Cyan
Nike 5509 available in Black & White, and Blue & Yellow
Nike 5525 available in Black Smokey Grey, Tortoise, and Blue
Nike 5527 available in Black Pink Purple, Crystal White Green, Black, and Brown
Eyeglass Frames For Youth 
Nike Mavrk available in Laser Orange, Matte Tortoise, Black, and Matte Black
Prescription Lenses 
Certain frames have the option to add single vision Rx and lined bifocal Rx. To determine which frames are available with prescriptions, visit our lead glasses section under the radiation protection category on our main website at UniversalMedicalInc.com to learn more. When ordering, please fax or email your Rx including your pupillary distance. Prescription information can also be noted in the "Order Comments/Special Instructions" section upon checkout under "Payment Information". 
Lens Enhancements  Lens enhancements are available for certain frames. The two types of lens enhancements: anti-reflective coating and a fog-free coating.
Radiation Safety Glasses Cases  Most of the Nike frames include a case and microfiber pouch to keep your radiation safety glasses safe and secure. The lead lenses are heavier than traditional eyeglass lenses so extra caution should be used when wearing and storing the lead glasses.
Questions? 
If you still have questions, don't worry, we're here to help you make an informed decision. The entire Nike lineup of radiation safety glasses have product videos on their dedicated product page to provide you with more information. Connect with us on Live Chat during our normal business hours or email us at info@universalmedicalinc.com and we will respond to you inquiry the following business day. Make sure to subscribe to our blog for periodic updates and product announcements.