KTP Laser is a type of laser that can be used to treat a variety of skin conditions. This post will highlight the key components of KTP lasers, their applications and important safety measures to follow.
Developed in the 1980's, KTP lasers emit a green laser beam that is used in many aesthetic applications. KTP stands for Potassium Titanyl Phosphate. This specific type of laser system has opened many doors for dermatologists and clinicians as they treat various skin conditions. Many skin treatments that use the KTP laser are rosacea, solar lentigo, sun-damaged skin, skin resurfacing, spider veins, age spots and warts.
The KTP lasers are gentle and do not result in bruising, which allow patients to recover faster. Like all operating laser systems in health care facilities, protective eyewear is essential. The specific laser safety glasses or goggles needed for KTP laser procedures can be determined by the operating lasers wavelength range and optical density measurements.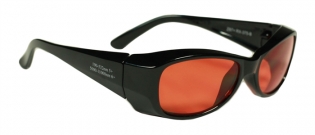 There are other safety components that coincide with KTP laser operations, besides wearing the appropriate laser safety eyewear. Basic laser safety measures to follow in health care facilities:
Avoid looking directly into the laser beam.
Designate a controlled area for all laser procedures in your facility.
Distribute Warning or Safety signs among laser areas.
Only allow authorized, trained medical personnel to operate laser systems.
Keep laser safety eyewear on throughout the entire time the laser is on.
Do not wear eyewear that appears damaged.
Consult with your laser safety officer (LSO) with any questions.
KTP laser systems continue to be a critical tool in treating various skin conditions. Remember, with all laser systems in health care facilities it is important to take precautionary measures to ensure the safety of medical staff and patients.