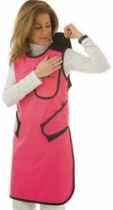 Is there a difference in weight between lead aprons and non-lead aprons?
There sure is!
Non-lead aprons are the lighter alternative to lead aprons, up to 40% lighter than regular grade lead. This is one of the many benefits that makes non-lead aprons a great choice for radiation protection.
Medical professionals who are required to wear radiation protection apparel often prefer non-lead aprons, due to being lighter in weight. For procedures that last a few hours, the weight of the lead apron can cause shoulder, back pain and can also cause fatigue. A few extra pounds on a lead apron can really make a difference for the person wearing it.
When comparing a lead apron to the equivalent non-lead apron you'll be able to notice the weight difference. For example, the Xenolite Overwrap Apron in a female large is 13.9 lbs. The Xenolite NonLead Overwrap Apron in a female large is 10.5 lbs. For this particular style, the non-lead apron is 3.4 lbs. lighter compared to the lead apron.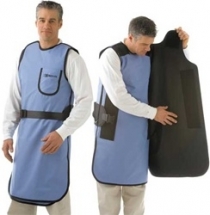 Although there is a difference in weight, the level of protection remains the same at 0.5 mm Pb. Non-lead aprons use 100% nonlead attenuating metals to offer complete protection. These aprons combine comfort and exceptional lumbar support which will reduce fatigue and upper back stress during lengthy procedures. It's important for medical personnel to reduce pain and eliminate fatigue that is caused by heavier lead aprons.
For medical professionals working in long interventional radiology procedures, our non-lead aprons will make a great choice. Keeping your medical professionals safe and healthy while working around radiation is a must. If you have any questions or comments, please feel free to share your thoughts in the comment box below. Interested in learning more about the difference in core materials? Download our free white paper to learn more.
Explore Our Lead Aprons