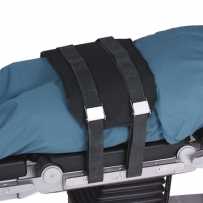 Not only are safety straps used to position patients in the medical field, they serve as a safety mechanism as well. In many medical facilities, the proper patient positioning techniques often require durable
safety straps
.
There are a considerable amount of medical applications that require the use of safety straps to assist in patient positioning. Surgeries that use anesthesia and x-ray procedures are common applications that often require the use of medical safety straps. When patients are improperly positioned the potential for nerve damage, muscle soreness and other associated risks increase.
Safety straps for medical purposes are available in an assortment of options. Our wide variety of safety straps include disposable, velcro, gel, padded, rubber and radiolucent safety straps. The Disposable Velcro Self Strap Restraint System is a leading choice, used to assist in immobilizing patients. This system is available by the roll, case or carton and is loop laminated to hook and make an automatic self adjusting strap/immobilizer during any OR procedure. A unique feature about this restraint system is that it's disposable, great for infection control purposes. Another common safety strap is our Bariatric Security Strap, ideal for positioning your bariatric patients comfortably. This security strap has an ample pad and four extra-durable straps for a secure fit.
Safety straps will help medical professionals easily and safely position patients. If you have any questions or comments regarding our safety straps, please leave a comment in the box below! The following video illustrates the unique features of our disposable velcro self strap restraint system.