Pipette accessories are used to organize pipettes, maintain a clean and safe lab environment, and help make the pipetting process efficient and controlled. This post will highlight a few pipette accessories that would make great additions to your laboratory setting.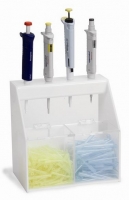 A few common pipette accessories include the following items. The Clear Acrylic Manual Pipet Rack with Angled Four Shelf Compartments protects and stores delicate pipettes. This organizer has four angled shelved compartments to store your 0.1 to 25 mL pipettes, allowing easy access while preventing damage and clutter. The Pipettor Workstation with Disposable Tip Bins will organize your pipettes and disposable tips together in one unique stand. The acrylic rack will hold up to four pipettors on the top shelf while holding a variety of pipette tips on the dual bins below.
Another accessory is the Rubber Bulbs for Large Pipets and Syringes, allowing easier use during the pipetting process. The 150 mL capacity bulb has reinforcing ribs for use with large pipettes. Also, the Pipette Tip Disposal Box has a quick flip cover that makes ejecting pipette tips easy. This disposable box eliminates the need to handle pipette tips and can be used with one-hand disposal.
The BrandTech Reagent Reservoir with Lid is made from heavy-duty polypropylene to withstand repeated autoclaving. This unit can be used with all multi-channel pipettes and has a volume measurement of 60 mL. The lids are included to help protect from sample contamination. Contaminated samples can cause many problems in the laboratory.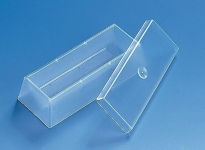 Additional pipette accessories are an excellent way to keep your laboratory organized, safe and efficient. What types of pipette accessories are you using in the lab? Let us know in the message box below!