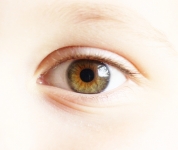 March 2014 is Workplace Eye Wellness Month! We're really big on eye protection in the workplace, especially in medical and research fields. With over 700,000 work-related eye injuries each year, it's crucial that workplace eye wellness awareness is discussed. This awareness month is a great time to focus on eye protection and wellness standards within your facility.
The National Safety Council states, "all it takes is a tiny silver of metal, particle of dust, or splash of chemical to cause significant and permanent eye damage."
A few preventative tips from Prevent Blindness include:
Visit an eye doctor to make sure you are seeing clearly, this will detect any potential vision problems.
When at a computer screen, sit 20-26 inches away from your eyes and a little below eye level.
Adjust text size on your screen to an appropriate level for you.
Change your office lighting so that it lowers glares and reflections.
Sit in a chair that can be adjusted.
Select screens that can tilt and move, and a keyboard that can adjust as well.
The Vision Council recommends the 20-20-20 break: every 20 minutes, take a 20-second break and look at something 20 feet away.
To find more about protecting vision in the workplace, be sure to visit Prevent Blindness organization.