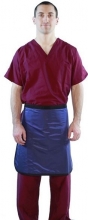 We've received a lot of questions regarding the importance of lap shields for radiation protection purposes. Lap guard aprons are commonly used by both patients and technologists for protection against radiation. Oftentimes, lap guard aprons are chosen along with a lead vest to help distribute weight evenly, instead of a full lead apron that can sit heavy on the shoulders.
Lap guard aprons are common in procedures where radiation is present, like interventional procedures and x-ray exams. Patients and technologists wear lap guard aprons to shield the lower portion of their body from harmful radiation, protecting sensitive internal organs.
The Quickship LapGuard Apron is unique as it can ship within 1-2 business days, ideal for those looking for a lap guard apron quickly. This apron is the standard 0.5mm Pb equivalency front protection and comes in a sapphire diamond ripstop color. This particular apron measures 24" wide by 20" long with a 1" adjustable buckle.
As always, it's important to follow your medical facility's guidelines when it comes to radiation protection. We can't stress enough how important radiation protection is in the medical field today. If you have any questions or comments regarding this topic, please leave a message in the box below!