Are you working around a Holmium:YAG laser system? If so, it is important to protect your eyes with Holmium laser safety glasses. These Holmium Laser Glasses not only provide eye protection but also excellent visibility through clear lenses, allowing you to distinctly see while working with this type of laser.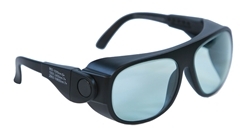 Laser radiation emitted by medium to high-powered laser systems can leave a permanent effect to your vision and damage your eyes. According to ANSI standards, it is highly recommended that those working around class 3B and class 4 laser system wear the appropriate protective eyewear. It is crucial that all medical staff follow their facility's laser safety guidelines, which can be provided by your laser safety officer (LSO). The holmium laser safety glasses (also known as KG5 filters) will keep the eyes of medical staff protected as they work with this specific laser system.
During a procedure or exam it makes it easier for medical personnel when they can clearly see through the lens of their protective glasses. The lenses in the Holmium laser glasses are made up entirely of glass, giving more durability and longevity to the glasses. Since this filter is constructed of clear glass, the laser safety glasses will protect against a wider range of wavelength frequencies and will allow more visible light. The following chart illustrates the wavelength frequencies, optical density, lens color and visible light transmission for the Holmium laser glasses:
| Wavelength | Optical Density | Color | Visible Light Transmission |
| --- | --- | --- | --- |
| 900-1000nm | 5+ | Clear | Excellent Visibility |
| 1000-1500nm | 7+ | Clear | Excellent Visibility |
| 1500-2400nm | 7+ | Clear | Excellent Visibility |
| 2900-10600nm | 7+ | Clear | Excellent Visibility |
Holmium lasers are powerful laser systems that are commonly found in a variety of medical, clinical and cosmetic facilities today. We understand how important it is to offer medical staff full eye protection and excellent lens visibility. Our holmium laser safety glasses are high-quality protective eyewear used in many holmium laser applications.
If you have any questions or comments regarding this post on holmium laser safety glasses, please leave a comment below!