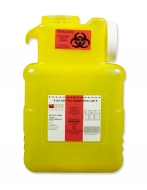 A needlestick from a contaminated sharp has the possibility of leaving a worker infected with HIV, HBV, HCV and other dangerous pathogens. It's important to appropriately discard sharps in your facility's designated sharps containers. When selecting sharps containers it's good to know the type of waste your facility has to discard, the storage area and space limitations and your facility's state and federal regulations.
Chemo sharps containers are a safe way to dispose of trace chemotherapy, needles, administration sets and medication vials. The 1.5 gallon chemo sharps container is ideal for smaller volume treatment areas and home infusion usage and will help prevent percutaneous injuries and exposure to hazardous materials.
Features:
Dimensions: 8″ wide x 4.25″ deep x 11.75″ high
Has a liquid absorbent pouch and a gasketed locking screw cap to prevent leakage during disposal or transport
Bright yellow color for medical staff to easily identify
Unique locking top minimizes the risk of hazards resulting from mishandled, overturned or dropped containers
Container can be free standing on a table top or mounted with metal cabinets and stands
Puncture resistant walls
Have any questions or comments about our featured product? Let us know in the comment box below!