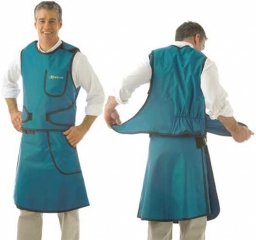 X-Ray Use In Diagnostic Imaging
The use of x-ray as a form of diagnostic imaging is not considered new in the medical industry. However, even after years of use, some medical professionals do not have a complete understanding of the harm caused by improper protection to medical imaging personnel. When exposed to direct x-ray beams or indirect beams (also known as scatter radiation) it is crucial that medical professionals protect themselves to the fullest extent possible. It is especially important for personnel to protect those body parts that have been found to be most sensitive to radiation exposure, including the thyroid gland, eye tissue, as well as the male and female reproductive systems.
Radiation Beam Exposure
When selecting protective apparel you want to consider your specific exposure to the radiation beam. This will require an understanding of the direction in which the radiation beam is focused, as well as your body's position within the room in relation to the beam. Some individuals require protection of the front of their bodies while others may face the radiation as well as have the back or sides of their body turned toward the radiation during exposure. You'll want to select radiation protection apparel that provides the necessary coverage of your body based on your individual exposure.
Lead Equivalency Standards
In the U.S., the industry standard for front protection apparel is 0.5 mm lead equivalency protection. Apparel that offers front and back protection is most often 0.5 mm in the front and 0.35 mm lead equivalence protection in the back. The difference in equivalency is attributed to the fact that frontal exposure is typically more prolonged than back exposure. Radiation aprons or gowns are designed to protect your essential organs from the shoulders to the thigh, but be sure to couple your apron selection with a thyroid collar to ensure that the delicate tissue of this gland is not unnecessarily exposed.
Is radiation eyewear provided by your facility?
It might be worth the personal investment. Protective lead glasses are now being offered in stylish frames at affordable prices for individuals. Do not put yourself at an increased risk for cataract complications by ignoring the necessity of protecting sensitive eye tissue from scatter radiation during medical imaging procedures.
If you have questions about your exposure to radiation in your medical profession, contact your facility's radiation safety officer. This individual should be able to advise you as to the proper precautions necessary for your position.