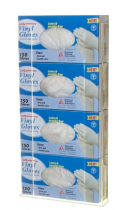 Choosing the right exam glove box dispenser is an important step in keeping your medical facility organized and promoting sound infection control practices. Exam glove box dispensers, sometimes referred to as PPE dispensers, eliminate the need to carry exam gloves in pockets, loose in drawers or on countertops. There are several factors to consider when selecting the right exam glove box dispenser. The type of facility and the amount of traffic your facility or department receives are two of the top considerations. The application and location of the dispenser will determine what size capacity is needed, the type of material, mounting orientation and any additional features.
Application
In high traffic locations such as emergency departments, operating rooms and trauma units where exam glove usage is critical, keeping a safe stocking level is crucial to staying compliant with infection control policies.  Selecting a quad or four box exam glove dispenser ensures that your department will always have sufficient inventory on hand at all times. Hospitals with a large number of staff will typically want to choose a quad or triple box exam glove dispenser that can accommodate multiple sizes.  For more specialized infection control applications, the Microban Anti-Microbial exam glove box holder is ideal for use in cleanrooms, hospitals, and microbiological work areas.
Capacity
There are four common exam glove box dispenser configurations: single, double, triple, and quad to meet your facilities needs. Some of the dispensers are designed to be dedicated exam glove box holders while other dispensers, like the FlexHold quad glove/mask holder have been designed to hold various types of PPE supply boxes. There are also specialty exam glove dispenser boxes that incorporate an additional pocket to hold hand sanitizer.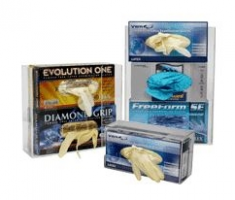 Material
Exam glove box dispensers are available in multiple substrates: acrylic, powder coated steel wire, epoxy coated steel wire, stainless steel, white steel, and high-impact polystyrene. Acrylic dispensers are clear and durable allowing for quick glove identification and easy refilling. The powder coated and epoxy coated wire dispensers feature a see-through construction which allows for easy identification of glove sizes. The durable stainless steel dispensers are long lasting and safe to clean with most bleach solutions. The powder coated steel dispensers offer a durable finish and an open design which allows for easy identification of glove sizes. Dispensers constructed from high impact polystyrene (HIPS) are durable and are resistant to harsh cleaning solutions.
Mounting Orientation
Exam glove box dispensers are available in multiple mounting configurations. Some dispensers are designed with two-way keyholes that allow for a dual mounting option so that the dispenser can be mounted vertically or horizontally. Dispensers may also come with suction cups that allow for mounting on glass surfaces. In addition to the wall mount option, many of the dispensers can also be placed on a counter or tabletop which will keep glove boxes organized and improve the utilization of exam gloves in your facility.
Features 
Unique features may be necessary depending on the specific location and application. Let's take a look at some of the unique features available. There are Dispensers with locking lids which offer an added level of protection for safely and securely storing exam gloves while still allowing for easy access. Most acrylic dispensers have finger holes located on one end to make refilling quick and easy. There are several types of loading configurations including, top, side, and bottom loading. Some dispensers have spring loaded back flaps that keeps glove boxes up front and firmly in place, preventing smaller boxes from sliding. The FlexHold quad glove/mask holder has a unique bottom loading, adjustable clamp design that adjusts to a variety of different sized PPE boxes including, gloves, mop caps, ear defenders, face masks, and shoe covers.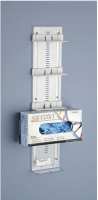 There are a variety of exam glove dispensers to choose from and that is why it is important to take the criteria listed above into consideration before making your decision. Purchasing exam glove dispensers might seem like a fairly straightforward process but with the amount of options available it can make the decision more difficult then originally anticipated. If you may have any questions regarding how to choose the right exam glove please feel free to leave a comment below or contact us directly at info@universalmedicalinc.com.