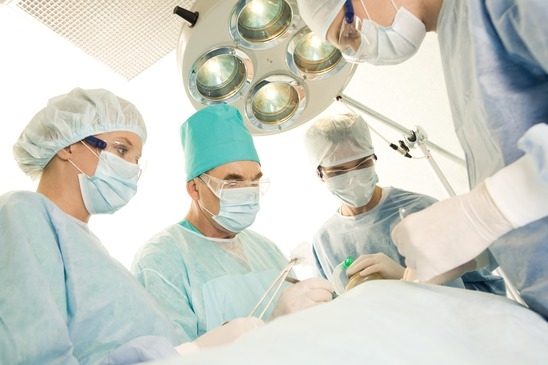 What is an active cooling vest? 
A cooling vest is a piece of equipment designed to cool a person down. Cooling vests are used by doctors, athletes, industrial workers, working dogs, individuals with Multiple Sclerosis or hypohidrotic ectodermal dysplasia, race care drivers, and military personnel.
Active cooling vests and systems require some form of power, electricity or battery, to operate. This type of cooling technology provides continuous cooling to lower the body's core temperature by circulating cold water via a cooler through a tube to the vest.
CoolVest System 
Although cooling vests are used by a variety of people for a variety of uses, the CoolVest System has been designed specifically for surgeons working in the OR. Staying cool in the OR is an important consideration for surgeons, especially when performing pediatric surgeries, burn or trauma cases. The CoolVest System will keep you cool and focused – even when the OR has been warmed to AORN recommended OR temperature 68-73 Fahrenheit [ www.aorn.org/Clinical_Practice/Clinical_FAQs/Environment_of_Care.aspx#b ] and Joint Commission Standards. When performing surgical procedures where the surgeon is exerting a great deal of physical effort, body temperatures can easily rise while covered with sterile gowns and lead aprons, not to mention the heat emitted from the OR lights.
CoolVest System Features
Lightweight vest made with hospital-grade ventilated nylon for maximum comfort.
Variable flow control and quick-dry disconnects for ease-of-use.
Choice of styles & sizes from small – XXXL
Variable hose lengths for freedom of motion.
Up to 70 feet of patented, thin wall, no-kink tubing for use under lead aprons.
Low-profile cooling unit for easy storage.
Wheeled cart with handle for convenient portability.
Single and dual vest capacity.
Heavy duty pump system.
Limited Lifetime Warranty with Free Loaner Program
UL Listing guarantees the highest quality standards for use in the OR.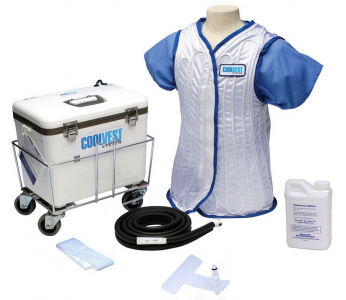 Single-Surgeon System Includes
One premium CoolVest (Small-XXXL)
8 foot insulated supply hose with quick disconnects
Protective hose cover
T-Drain kit
Maintenance additive (16 ounce bottle)
Stainless steel cart with hospital grade wheels
UL Listed cooler with variable flow 110V pump
A Dual-Surgeon System is also available and comes with two premium CoolVests. 
Remain Alert And Focused
The CoolVest System offers variable flow control, which allows you to regulate the fluid flow to your personal comfort level so that you won't perspire, suffer fatigue or lose concentration. No matter how long or complex the surgery, you'll remain alert an focused.
Stay Cool And Comfortable
The lightweight vest is made with hospital-grade ventilated nylon for maximum comfort. Available in sizes ranging from small to XXXL the CoolVest is lightweight, comfortable, and durable for OR conditions. Comfort is essential when working under intense pressure and performing hundreds of high-risk procedures each year. The CoolVest will help surgeons and medical staff stay cool and focused while working in the OR. Make sure to visit our Surgeon Cooling section on our main site for more CoolVest products.