Protecting Your Eyes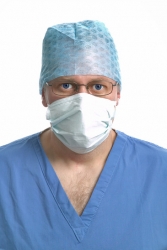 Your eyes are an important part of your overall health. Protecting your eyes, whether from ultraviolet radiation or ionizing radiation is important. Among the tips for maintaining good eye health is to always wear protective eyewear.
How Do Lead Glasses Protect Your Eyes?
Radiation eye protection should always be used when working near and around ionizing radiation. Recently, several studies have found that wearing lead glasses significantly reduces the lens dose rate. One study published in November of 2010, Comparing Strategies For Operator Eye Protection In The Inventional Radiography Suite states that the "use of leaded glasses alone reduced the lens dose rate by a factor of five to 10."
Lead Glasses: Proper Care And Maintenance 
Wearing the proper radiation eye protection is an important part of following sound radiation safety principles. Properly maintaining and caring for your lead glasses is an important consideration as well. Lead glasses come in a wide-variety of shapes and sizes to accommodate the unique demands of the individuals that wear them. By following these 7 tips you will learn how to care for and maintain your lead glasses for years to come. Before reading the 7 tips, it may be beneficial to review our previous post, What Are The parts Of A Lead Eyeglass Frame?, to help familiarize yourself with the various names and components of lead glasses.
1. Use Care When Removing Lead Glasses
Lead glasses are heavier than traditional eyeglasses due to the added weight of the leaded glass. Always use two hands when removing your lead glasses to keep the hinges, lead side shields (if applicable), and temples properly aligned. Avoid removing the frames with one hand, repeatedly removing the frames this way can stretch the temples and ultimately effect the fit of the glasses.
2. Don't Use The Bridge For Adjustments
As we discussed earlier, lead glasses come in a wide-variety of shapes, sizes and designs. Although the styles of lead glasses may vary, it is important to avoid adjusting metal framed glasses by pushing on the bridge, doing so can result in improperly aligned nose pads, and wearing the finish off the frames. To ensure that you keep your frames properly aligned and comfortable, adjust your frames by positioning your thumb at the bottom of the frame front and your fingers on the top, and move them to the desired location on your face.
3. Avoid Placing Lead Glasses On The Top Of Your Head
The attenuating properties of lead lenses (0.75 mm lead equivalent) makes the lenses heavier than traditional corrective lenses. Placing your lead glasses on the top of your head can result in them falling off, and with the added weight of the lead lenses, damaging your lead glasses. The overall shape of the frame shape can become stretched, resulting in a less than ideal fit.
4. Avoid Cleaning Lenses With Abrasive Materials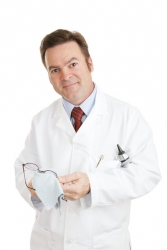 Undoubtedly the most important component of any pair of lead glasses, prescription or not, is the lens. Dirty lenses can impact your sight and make any procedure more challenging. A microfiber optical cleaning cloth is designed for providing a safe and effective means of cleaning your lenses.
Cleaning Lead Lenses
To clean your lead lenses, secure the frames in one hand and rinse the lenses with clean lukewarm water to remove any fine particles of dust or smudges. Using your dominate hand, gently rub the microfiber optical cleaning cloth until the lenses are completely clean. To avoid scratching and damaging your lead lenses do not use any of the following abrasive materials:
A dirty microfiber optical cloth
Clothing
Tissues or paper towels
5. Use Lens Wipes/Professional Lens Cleaner Spray
Before using any type of lens cleaning solution or lens wipe check with the manufacturer's cleaning and care instructions. Generally, lens cleaning spray can be safely used on lenses that have had anti-fog. Avoid using spray cleaners for lenses that have anti-reflective or coated lenses.
6. Purchase An Eyeglass Repair Kit
As we discussed earlier in the post, the hinges can loosen over time and can result in a less than desirable fit. By purchasing a simple eyeglass kit you will be able to make minor adjustments to keep your lead glasses performing at optimum levels. You should plan on adjusting your lead glasses twice a year to tighten any loose screws and ensure a comfortable fit.
7. Protect your Lead Glasses By Keeping Them In A Case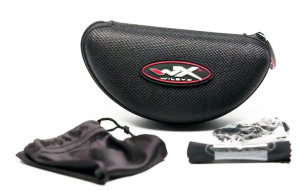 Whether you receive a glasses case with your purchase or buy one, it is imperative to properly store your lead glasses in a case when you aren't wearing them. By using a glasses case, you will ensure that your lead glasses are protected against nicks and scratches.
Dust particles, scratches, and hairline cracks can make viewing through your lenses much more difficult. To get the most out of your lead glasses, remember to always store them in your case when not in use. Depending on the manufacturer, lead glasses may come with a case or pouch for safe storage.
Questions? Comments?
We'd like to hear your feedback. Connect with us on social media or simply leave a comment below!
//www.slideshare.net/UniversalMedicalInc/caring-for-your-lead-glasses-7-tips-to-follow