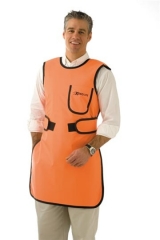 Any medical professional who may be exposed to radiation is recommended to wear the proper attire for protection.  Prolonged exposure to x-rays has been linked to an increased chance of developing various types of harmful effects.  
X-ray aprons
are often utilized to reduce exposure to both patients and medical personnel.
So, why is there a 2-3 week wait time for x-ray aprons?  We have outlined a few reasons behind this long wait and even a way to get your x-ray aprons faster.
A majority of our aprons are custom made.  This means your apron is made after you have placed your order.  Universal Medical does not keep most aprons in-stock, because they are shipped directly from the manufacturer to customer.
Since most of our aprons are custom made, this gives you the ability to select your own size, color and style to fit both patients and medical personnel.  The aprons are also available for letter embroidery to add a personal touch on your apparel.
So what if you don't have 2-3 weeks to wait?  The Quick Ship collection may be the perfect option for you.  The quick ship styles are offered in a Lead Flex Guard Apron and a Lead LapGuard Apron, which are only available in sapphire blue and cannot be embroidered. Shipping time is usually between 1-2 business days, serving those who need x-ray aprons quickly.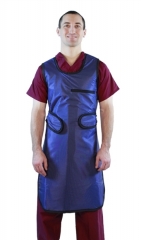 Another important factor to point out is that all of our x-ray aprons have a standard protection level of 0.5 mm Pb.  Therefore depending on which style x-ray apron you select, it holds the equivalent protection level needed.
Remember, if you're not wearing the proper protection while being exposed to direct or scatter radiation, you may experience long term damage to your body.  We hope this post helps your decision when determining which x-ray apron is best for you, keeping in mind your time restraints and style preferences.