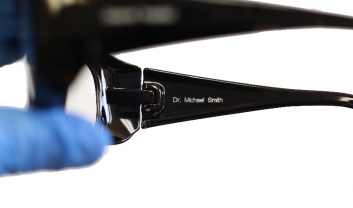 Looking for an easier way to locate your lead glasses among your co-worker's lead glasses? Our manufacturer has provided an option to personalize your lead glasses by imprinting your name on the inside.
It is essential to use lead glasses in any procedure that transmits scatter radiation. These glasses are able to absorb the radioactive particles and scatter the particles away from the eye.
Before going into a procedure, doctors and radiology technicians will take precaution by wearing lead glasses.  To eliminate confusion between other co-worker's lead glasses, have your name imprinted on the inside frame.  The easy-to-read font can display a doctor's name, technician's name, nurse's name, etc.  You can also add an eye prescription to the lens.  In this case, knowing which glasses have prescriptions is important when working among others. By removing confusion, you will save time and energy within your work day.
We've also heard of crazy stories about medical personnel trying to steal lead glasses! (crazy, right?) Imprinting your name would certainly cut back on the chances of thief. The frame imprinted text allows a maximum of 35 characters. So whether you're looking to show: Dr. Smith, Dr. John Smith, John Smith or J. Smith, your name will be professionally displayed on the frame.
It's easy to order custom imprinted lead glasses. At the product detail page on our website, you can customize by following the "choose your options" feature.  We highly encourage people to double-check spelling before placing an order.
It is important to recognize that personalizing lead glasses is not recommended for individuals in a hurry. The imprinting process takes an additional 1-2 business days, resulting in a total delivery time of 5-6 business days. Although regular non-personalized lead glasses can be returned within 14 days, the custom imprinted glasses are not returnable. Also keep in mind, not all lead glasses have the name imprinting option. 

So whether you're looking to organize your protection apparel or not wanting another pair to mysteriously disappear, adding a personal touch on the frame of your lead glasses may be the best approach.
If you have any questions or comments regarding our lead glasses, please post below!