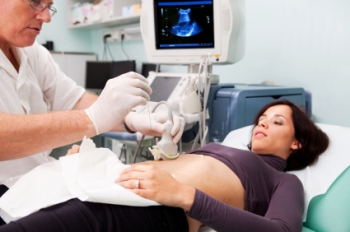 Ultrasound guided procedures are becoming more common in today's medical world. Many hospitals, clinics and doctor offices use ultrasound technology for a variety of diagnostic purposes.
An ultrasound is simply a technique to stimulate the tissue underneath the skin's surface using high frequency sound waves. The ultrasound images are taken in real-time to show the movement of internal organs, as well as blood flow. Technologists will place ultrasound gel on a patient's skin or probe before the procedure. The ultrasound gel is used as a conductive medium to transmit the sound of waves from the probe to skin, which will then render images on a screen for the technologist to view. Ultrasound exams do not use ionizing radiation, they are considered safe and minimally invasive. The following are a few common ultrasound guided procedures:
Ultrasound Guided Breast Biopsy
Ultrasound Guided Cervical Spine Injection
Ultrasound Guided Liver Biopsy
Ultrasound Guided Thyroid Biopsy
Ultrasound Guided Thoracentesis
The safe performance of diagnostic procedures is an important part of any medical practice. Both physicians and patients often prefer an ultrasound guided procedure when compared to a surgical, invasive procedure. Ultrasound technology is commonly used in biopsy procedures. When an ultrasound guided breast biopsy is scheduled, it usually means that during a routine mammogram there was an abnormality detected. A breast biopsy is used to extract fluid or cells from the tissue that will be sent to a laboratory for further testing.
Medical facilities such as hospitals, clinics and doctor offices, will continue to use ultrasound technology to treat patients. If you have any questions or comments regarding this topic, please share your thoughts in the comment section below.
The following YouTube video is a short overview of an ultrasound guided breast evaluation: