Safety is an important factor in bariatric patient transfer. With the number of bariatric patients increasing, it's more important than ever that bariatric patients are safely transported. So, how should you keep bariatric patients safe while transporting them throughout your medical facility?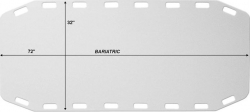 Let's start with stating that safe handling and care guidelines are a must! Specific requirements and handling guidelines are most likely already established in your medical facility. Guidelines for safely handling bariatric patients typically include:
Eliminate hazards that might pose a potential accident during patient transfer (tripping or bumping into equipment/items on the floor)
Provide proper training and education to medical professionals to ensure best patient transfer practices
After safety guidelines are in place, finding high-quality bariatric patient transferring equipment is important. Bariatric patient transfer boards are essential as far as equipment goes. The Bariatric Transfer Board – Supine Position is a semi-flexible moving platform, with hand holes all around the board for secure patient transfer. This radiolucent board allows you to safely reposition a patient back and forth from stretcher to bed or table. This transfer board is ideal for bariatric patients with a maximum weight capacity of 450 lbs and allows for 2-6 people to move the patient.

The Bariatric Transfer Board – Seated Position is a premium heavy-duty transfer board with two hand holes and tapered ends. This board is ideal for patients in the seated position and serves those transferring from a wheelchair. This particular board has been stress tested to hold up to 650 lbs. It's important to consider the patient's weight before transferring them and acknowledging the weight capacity of each transfer board.
While transferring bariatric patients, keep in mind the importance of safety and quality transfer equipment. If you have any questions or would like to share any comments, please let us know in the comment box below!