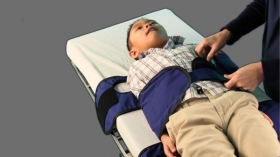 Papoose boards are important for both dental and medical procedures. These boards help temporarily stabilize a patient and limit their ability for movement. Papoose boards are really a safety measure to prevent patient injury during important procedures.
Did you know these boards were radiolucent? Our papoose boards are metal free and can be used in radiology departments. Constructed of a high-density polyethylene (HDPE) these papoose boards are durable and completely radiolucent. There are many papoose boards on the market that contain metal, which will negatively alter data during a diagnostic imaging procedure. Our papoose boards will not artifact your image during an x-ray exam and will safely restrain a patient during this time.
Papoose boards were designed with the intention to be used for children who cannot keep still due to a disorder or have the inability to follow instructions. Our boards are designed in multiple sizes including an adult size. The available sizes include small (infants 3-24 months), regular (2-5 years old), large (6-12 years old) and extra large (teenager-adult). All sizes are MRI safe, latex free and have hanging holes for easy storage. Each set is complete with the following: 1 board, 1 padded three tier flap set, 1 padded head strap and 4 arm/wrist straps.
There are alternatives to using papoose boards, which usually involves sedation. Many physicians and medical professionals will agree that restraining a child on a board is safer than giving patients strong medication.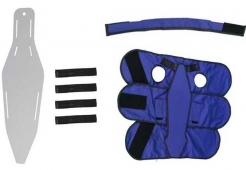 Keep in mind that papoose boards are designed to ensure safety for patients who cannot be immobilized without restraints. If you have any comments or questions regarding our papoose boards, please let us know in the comment box below!