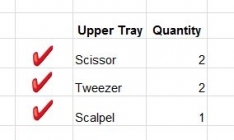 Surgical counts – a very important task for medical personnel working in operating rooms everywhere. We're not trying to alarm you, but we need to emphasize how important performing accurate surgical counts are  in your operating room.
The way surgical counts are performed may vary from facility to facility. However, in general, this count is the process of counting all surgical instruments before and after surgery. If the count is less after the surgery, you know there is an instrument either misplaced, lost on the floor or worse – retained inside the patient.
The Medical Instrument and Needle Finder Magnet is a tool frequently used when surgical instruments are lost on the OR floor. This finder magnet is easy to use as you simply glide the finder over the floor so instruments can attract to the magnet. This tool is ideal when working with tiny surgical instruments and has a no stoop retrieval feature to keep medical personnel upright to prevent back strain. By locating surgical instruments on the floor you can eliminate the possibility of retained surgical instruments inside the patient.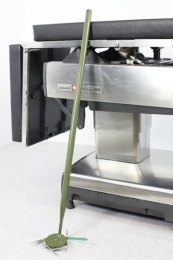 In the case that a surgical count is not performed appropriately, it can be costly in the fact that surgical instruments are rather expensive. If the instruments are lost inside the patient, the patient would most likely need another operation or exam to correct that mistake, also costly. So performing surgical counts are crucial for not only your facility's sake, but also your patients.
Have you ever experienced a lost surgical instrument in your facility's operating room? Tell us your story below!