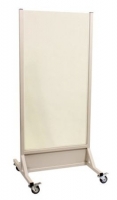 The effects of radiation exposure from x-rays can be detrimental to your health. We can't emphasize enough how important it is to protect yourself during every procedure that involves possible exposure to radiation.
Lead shields
provide an additional layer of protection from x-ray radiation exposure. This radiation protection equipment allows nurses, doctors and technicians to stand behind a barrier during procedures. These lead barriers are often used in medical and dental applications where the healthcare professional needs to stand next to or near the patient during the procedure.
Lead shields come in a variety of styles and sizes. One of the important features of almost all radiation protective lead barriers is that they are mobile and can be easily readjusted around the exam room. The standard lead shields are a large framed barrier with a half or full window that allows the doctor, nurse or technician to be able to easily see their patient. They also can be wide enough to accommodate two healthcare professionals standing behind the barrier.
Some models of x-ray lead shields are also available in a durable nylon material which allows for mobility and flexibility. These lead shields are also ideal for diagnostic procedures because of their ability to adjust the height of the shield and they can easily rotate. For procedures involving a C-arm, there are lead shields available that are designed with pleats, which allow the C-arm to pass through the panels of the shield without affecting the procedure.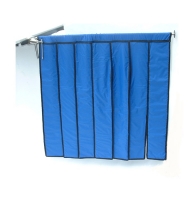 Mobile lead sheets with panels are also available. They are attached to the arm of a hospital bed, blocking radiation that can come from the space in between the table and the floor. If a medical table is being used during the procedure, there are lead table shields that can be draped over the medical table to block the radiation.
It is important to have lead barriers on hand or easy accessible at all times in a medical or dentist exam room. Ensuring that nurses, doctors and technicians are protected from x-ray radiation exposure during a procedure is absolutely critical to their well being.