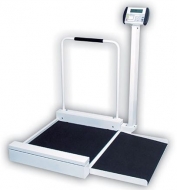 Is your medical facility using the appropriate medical scale? Having the right scale in a medical setting can make weighing patients easier and more efficient.
The accurate measuring of a patient's weight isn't only important, it's required. Physicians and medical professionals often need to keep track of patient weight loss or weight gain. This information must be correct, that's why we recommend our high-quality, precise medical scales.
So, what types of medical scales are out there? Well, different types are included in our full line of medical scales: chair scales, floor scales, digital scales, mechanical scales and wheelchair scales. For weighing patients in a wheelchair we offer the Digital Stationary Wheelchair Scale, which has a platform designed to accommodate most wheelchair sizes and comes with an attachable ramp. For medical professional on-the-go, we recommend the Digital Visiting Nurse Scale. This scale is lightweight and portable making them perfect for mobile clinics and home care nurses. For those looking for a more basic approach, the Low Profile Digital Healthcare Scale is well-designed and easy to read while having a weight capacity of 600 lbs.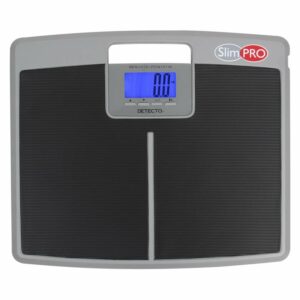 Your medical scale should ensure 100% accuracy. Whether you're looking for a digital or mechanical form, our large variety of medical scales are used in many medical facilities and hospitals. Having the right medical scale in your health care facility, weight loss clinic, pediatric office or hospital is crucial for weighing patients accurately. If you have any questions or comments regarding our medical scales, please let us know below!