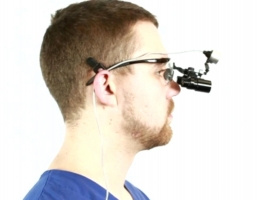 In both dental and surgical applications it's common to find medical professionals utilizing attachable light sources on their loupes. The right amount of loupe light can be an essential component to any medical application. With a clear view, a doctor can perform procedures and exams thoroughly and safely.
An attachable clip-on light typically generates light from a source that can be easily clipped-on or stored nearby. Some surgical models are designed in that the cord from the light source runs from a tabletop or wall-mounted platform. Both designs will work, it really just depends on the type of procedure and how your medical environment is set up.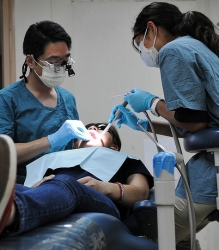 It's important to keep in mind that a good light source can be essential during your medical application. Without proper loupe light, medical professionals can sometimes make an oversight when scrutinizing a patient. Loupes, in general, help determine a better diagnosis for patients and loupe light is an additional benefit during these applications. For many dentists, an attachable loupe light is a crucial component in performing precision dentistry. Dentists and dental assistants can often block the overhead light when examining a patient. Loupe lights allow dentists to focus light onto a particular spot in the patient's mouth, without shining an uncomfortable bright light into the patient's eyes.
The benefits of using an added light source includes the ability to clearly see the precise area of the patient. With this clear visibility, doctor's can use best practices as they keep their patient safe and provide excellent patient care. If you have any questions or comments regarding loupe light, please let us know in the comment box below!