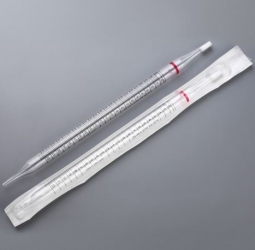 Understanding
serological pipettes
is very important in your laboratory applications. Serological pipettes are often used in laboratory settings to transfer liquid, typically in measurements of 1mL to 50mL. Serology is a scientific study of plasma serum or other bodily fluids that refers to diagnostic identification of antibodies. We've put together a few helpful techniques and tips to keep in mind when using serological pipettes.
Don't touch the sterile pipette with your hands or lay it on the table, this can lead to contamination.
"Blown Out" is a common term used that means to empty the pipette in order to measure the correct volume.
You never want the solution to go up into the cotton plug.
When using serological pipettes it's important for the user to wear protective apparel, such as a lab coat, gloves, eyewear, etc.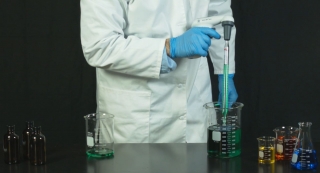 With a variety of serological pipettes to choose from, they can be used for a wide range of experimental assays.  Our 25mL UniPlast Plastic Serological Pipettes are available as non-sterile or sterile, and red striped color coded using the ASTM E1380 industry standards. These pipettes have smooth one-piece construction seamless design eliminates the weld points that trap liquid and provide a faster fill and release, ensures a complete flow out and offers a high degree of accuracy. Be sure to watch our product video below to see the 25mL UniPlast serological pipettes in use.