The specific product originally linked in this post has been discontinued by the manufacturer. For similar products, explore our other
low retention pipette tips
.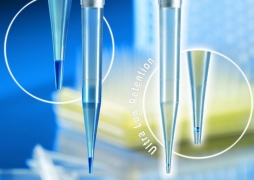 The Brand Ultra Low Retention Pipette Tips are unique in that they can significantly reduce the loss of samples.
The persistent problem that occurs with ordinary pipette tips continues to be sample loss. Many applications require high precision measurements, making the low retention tips ideal. In some applications, it's not a problem when fluid droplets or liquid remains inside the tip, that's when the ordinary pipette tips are typically used.
In many biological applications, like PCR, PAGE or many areas of chemistry, samples must be treated with a detergent. Detergents can greatly decrease the surface tension of liquids, hindering the correct dispensing amount and affecting pipette performance. These specific ultra low retention pipette tips are ideal for biological samples that contain detergents such as Triton X-100, SDS, Tween, etc.
The ultra low retention tips surface area is produced with a unique, patented physicochemical process. The homogeneous, defect-free surface has extremely low surface tension, reducing sample loss. Surface tension is the strength of intermolecular forces that hold liquids together. An example of a liquid with high surface tension would be water. Pipetting with low surface tension liquids causes a thin film of liquid to remain on the tip walls, slowly flowing down the tip. The following chart compares the surface tension of brand ultra low retention tips with other samples. 

Does your laboratory application require high accuracy and reproducibility? Well, the Ultra Low Retention Tips could be perfect for you. If you have any questions or comments, please let us know by commenting below!