Many radiology technicians, doctors and nurses are traveling more often from one medical facility to another. Since the importance of using lead aprons continues to grow, it's necessary to have your lead apron safe while traveling. An efficient and safe way to travel with your lead apron is with an apron carry bag.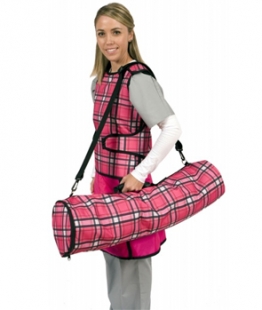 Many medical professionals stress about damaging their lead aprons as they travel. The apron carry bag conveniently holds and protects your lead aprons. Its tube shape design allows for the apron to be wrapped around a sturdy cardboard tube, while keeping the apron safe and secure. It is equipped with a carrying handle and shoulder strap to make traveling with a lead apron easier. If you are traveling with a group of people or afraid of misplacing your apron carry bag we recommend selecting the embroidery option for your name or initials. This bag is offered in an assortment of colors and designs to allow for personalization.
It is important to travel with an apron carry bag to avoid damaging your lead aprons or vests. Folding or creasing lead aprons can result in cracking, which will allow harmful radiation to pass through. By traveling with your lead apron you'll have peace of mind knowing that it will provide full protection because it fits you properly. If you travel without a lead apron, the other hospital may not have a lead apron for your size which can increase the risk of radiation exposure.
The next time you have to travel from one location to the next with your lead apron, consider the apron carry bag to help keep you organized and your lead apron safe! If you have any questions regarding this post, please feel free to post below.