Is it time to replace your foam table pads on your OR table? If there are any rips or tears your answer should most certainly be yes! If your operating room table is used frequently, it may be a good idea to seek replacements table pads to ensure maximum patient comfort.
This post will highlight a few important factors to consider when looking for replacement table pads.
Start with identifying what type of OR table you have. Table pads are first broken down into the table brand and model. For example, we sell table pads for the following OR tables: Liebel Flarsheim, Steris, Siemens/Maquet, Skytron, OEC, Midmark, Shampaine/MDT/Getinge and Amsco.
Determine the foam pad thickness you are interested in. Keep in mind, the thicker the foam pad typically increases patient comfort. Most table pads are offered in a 2″, 3″, 4″ or 5″ thickness.
Then we recommend identifying the types of applications and procedures your OR table is used for. Determine if a majority of the tables use is for lengthy, time-consuming procedures vs. shorter procedures. For lengthy procedures, purchasing the foam table pads with the added top gel layer may be best for patient comfort. Foam table pads with a top gel layer may potentially prevent the development of pressure sores that transpire during lengthy procedures.
Another consideration is the table pad cover. Basic models are fluid resistant and the seams are sewn using a waterfall technology. The models with welded covers are fluid proof, meaning the seams are welded for a fluid proof seal. If your OR table frequently experiences bodily fluids, the welded cover is most likely your best option. For infection control purposes, you cannot allow fluids to absorb into the foam underneath the cover.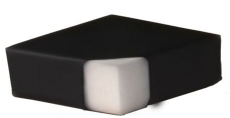 With our assortment of high-quality foam table pads you can ensure patient comfort during what is most likely a physically and emotionally trying procedure. Creating a high level of comfort for your patients is essential. A relaxed patient is much less likely to suffer from muscle tension, stiffness and other potentially injurious conditions. If you have any questions or comments, please feel free to share your thoughts in the comment box below!