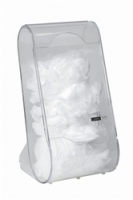 How are you storing your personal protective equipment in your medical setting?
PPE supply dispensers
are the perfect solution for successfully storing your medical facility's personal protective equipment.
Personal protective equipment (PPE) is specific clothing or equipment worn to prevent possible infection. PPE can include exam gloves, face masks, isolation gowns, bouffant caps, shoe covers, facial tissues, etc. PPE is very important because it can keep medical professionals safe from infectious material, body fluids and disease.
PPE supply dispensers allow you to store the necessary personal protection equipment. The benefits of using Universal Medical's PPE supply dispenser includes:
Organization of PPE
Increase in the utilization of PPE
Large variety of dispensers to accommodate your medical setting
Special features: wall-mounting, durable clear acrylic, etc.
To increase the utilization of personal protective equipment among your medical personnel, it's important to keep such supplies in an accessible dispenser that is easily visible. These dispensers will grant the proper organization of PPE supplies, allowing you to separate by product, color, size, etc.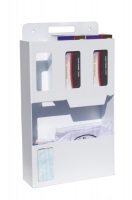 In environments that are constantly busy, it's important that these supplies are readily available. The PPE supply dispensers will make it easy to properly inventory needed supplies. Many of these dispensers have unique features such as the ability to be wall mounted or set on a table top. The
Personal Protection Isolation Organizer
can hold a variety of gowns, a box of face masks and three exam glove boxes for quick access to personal protection and hygiene supplies.
Remember, when it comes to personal protection equipment it's imperative to store PPE supplies in the appropriate organizer. If you have any questions or would like to share your thoughts on this post, please comment in the box below!