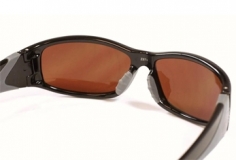 Need eye protection against double YAG and diode lasers? The
DH83 Double Yag Diode Laser Safety Glasses
are the perfect multi-wavelength filter that will keep your eyes fully protected.
The double YAG diode laser glasses selection will accommodate the needs of your medical personnel. This selection includes fit over glasses, adjustable glasses, wrap-around glasses and glasses with a large viewing area. It's important for laser safety glasses to be comfortable, especially in applications that may take a long duration of time. For example, these DH83 wrap around laser glasses are lightweight, yet durable enough to maintain full eye protection. This particular model is available in black, silver and red which will help differentiate among your co-worker's glasses. The brown lenses are a polycarbonate material, which is lightweight and offers 33% visible light transmission.
More importantly, these DH83 laser safety glasses will help you follow ANSI (American National Standards Institute) standards. According to ANSI standards, those working around Class 3B and Class 4 laser systems must wear protective laser glasses. These ANSI standards include the Safe Use of Lasers in Health Care Facilities and Safe Use of Lasers.
Since laser light is a form of non-ionizing radiation, eyes are vulnerable to laser injury if not protected properly. It's important to verify the correct laser you are working around and also to check the wavelength ranges the glasses protect against. Laser safety officers (LSO) will have this detailed information available. The chart below indicates the wavelength ranges the DH83 laser glasses protect against. 
| Wavelength | Optical Density | Color | Visible Light Transmission |
| --- | --- | --- | --- |
| 190-400nm | 7+ | Brown | 33% |
| 532nm | 7+ | Brown | 33% |
| 910-1070nm | 6+ | Brown | 33% |
| 850-1075nm | 5+ | Brown | 33% |
| 808-850nm | 4+ | Brown | 33% |
Know that it's important to take precautionary measures when working around powerful laser systems, including eye safety! Please feel free to share your thoughts or ask questions in the comment box below!