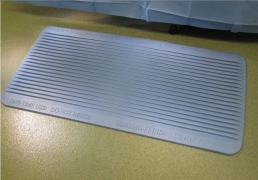 Operating room surgeons generally work long hours and often perform surgeries that require standing for a long period of time. You can imagine the toll it can take on their bodies after standing on hard surfaces for hours upon hours. That's why we recommend medical professionals utilize
surgical mats
in the operating room.
It's very important to reduce the risk of injury and fatigue and to create maximum comfort for medical staff. Surgical mats are available in multiple sizes and constructed of various materials. These mats are set on the floor of an operating room so medical personnel can stand on the mat instead of a hard floor.
Surgical mats are intended to help reduce musculoskeletal injury and improve workplace ergonomics. For example, the Disposable Surgical Mat was designed to address three major operating room concerns: surgical comfort, fluid buildup and OR safety. This surgical mat offers elasticity and ultimate cushioning in order to provide exceptional comfort during prolonged surgeries. This disposable surgical mat is often used in the following surgeries: arthroscopy, laparoscopy, spine surgery, total joint replacement & revision procedures, trauma surgery, transplant surgery, neurosurgery & craniotomy, urologic procedures, labor and delivery & c-sections, cardiothoracic surgery, bariatric surgery, plastic surgery, oral maxillofacial procedures and ear, nose & throat surgery.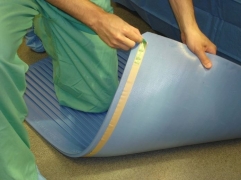 OSHA, Occupational Safety & Health Administration, advocates the use of anti fatigue matting in the workplace. The ramifications of extended standing can lead to serious health problems. Prolonged standing can surmount to leg pain, spinal compression, fatigue, impaired circulation particularly in the lower extremities, etc. Keeping your medical professionals in healthy condition not only benefits the individual but fellow medical staff and patients.
If your medical staff is working in time-consuming procedures without a surgical mat to stand on, consider the future benefits these mats have. Is your facility using surgical mats already? If you have any questions or comments, please share your thoughts in the comment box below.