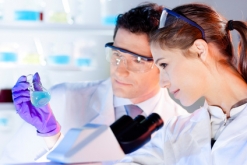 We recently interviewed Phillip Sims, who is the product manager at Benchmark Scientific to find out more about laboratory shakers and rockers. Laboratory mixing equipment, such as rockers and shakers are key tools used in many different laboratory settings nationwide. Phillip Sims answers a few of our most common questions regarding laboratory shakers and rockers.
1. What should someone consider prior to selecting a rocker or a shaker?
The most important factors to consider when choosing a rocker or a shaker are the type of motion that is desired for a specific application, the speed and orbit/tilt required to achieve optimal results, and the size or capacity required for the lab. Other details that should be considered are whether the instrument will ever be used in a cold room or incubator and if built-in temperature control is desired.
2. Could you provide a few examples of which instrument would be most appropriate for different applications (e.g. Western blot, gel staining, immunoprecipitation) and why?
While many labs choose to interchange rockers and shakers at will, specific motions and speeds will optimize results depending on application. Rockers are primarily used when control over how a particular solution moves over a media is important. For example, successful gel staining requires a wave effect to ensure that the staining agent evenly penetrates all pores within a given gel. Similar results can be achieved with both a 2D (see-saw) and 3D (nutating) rocker by adjusting speed and tilt angle. Some other examples of the best use for rockers would include gel de-staining, blotting, and film development.
While shakers can be used for some low speed applications like blotting, they tend to be more oriented towards medium speed applications such as cell culture and suspension, as well as general reagent mixing. Because shakers operate on a perfectly horizontal plane, the solution is distributed evenly in a vessel at low speed, and pulled toward the walls of a vessel at higher speed.
3. Once we've established whether a rocker or shaker is most appropriate, what are the key features to consider when selecting a particular model?
Rockers can come in many different variations depending on what the ultimate end use will be. Two of the more important features to be considered are motion, and the ability to adjust speed and angle. 2D rockers (exp. Benchmixer 2D), also known as a see-saw rockers, move a platform up and down over a fulcrum in the same motion that the name suggests. This provides a linear wave effect that washes back and forth within the vessel. 3D, or nutating rockers (exp. Benchmixer 3D) move each corner of the platform up and down in succession so that the wave generated moves from corner to corner in a circular motion. While both motions can be used for similar applications, 3D rockers are typically capable of stronger agitation when needed.
Often, end-users are recommended to choose a rocker with variable tilt and speed control so that the instrument can be used for multiple applications. By adjusting speed and tilt, the size of the wave can be adjusted for gentle or vigorous action as needed. In instances where it is known that the instrument will only be used for one purpose (such as blotting), a good deal of money can be saved by purchasing a fixed speed, fixed angle rocker optimized for the application (exp. Blotboy).
Since orbital shakers only provide one type of motion (circular mixing), key features to consider are speed and shaking orbit. Most common orbital shakers operate on a 19mm or 24mm orbit and are optimized for shaking wider diameter (>30mm) flasks and dishes. Because of the wider orbit, very vigorous mixing can be achieved with a maximum speed of 300rpm. Flask capacity and attachment system are also important to note when choosing a shaker for the lab. While capacity is widely based on the size of the platform, few researchers consider the attachment mechanism for clamps. Many traditional shakers utilize a pre-drilled universal platform which requires each individual clamp to be screwed down. If a lab must shake a large number of small flasks, followed by a few larger flasks, they may spend upwards of an hour each day simply exchanges clamps. Some manufacturers have worked around this by using a sticky mat for low speed applications; however, the patented MAGic Clamp™ system from Benchmark Scientific utilizes a magnetic clamping mechanism for instantaneous flask exchange of volumes up to 3 Liter. The ability to place clamps anywhere on the platform also increases capacity by 20% when compared to platforms of a similar size.
Load capacity and operating temperature are features of both instruments that an end-user will want to be aware of. As flasks and vessels can be filled to various levels, it is important to ensure that the motor utilized will be capable of moving the weight placed upon the operating platform. It is also important to check operating temperatures if the rocker or shaker is to be used in a cold room or incubator.
4. What different considerations are there for someone working in a commercial lab to a small scale research lab?
The major consideration will again be load capacity and weight. Most research labs operate in much smaller scale and will find a small or medium sized bench top shaker or rocker adequate for their needs. Commercial labs often work with much higher through-put and are typically agitating many more flasks and larger volumes at any given time. They may require a heavier duty rocker like the Everlast 247 or high capacity shaker such as the Orbi-Shaker XL to meet the increased weight requirement for larger volumes.
5. What is your most popular product in this space and why (e.g. does it serve a specific customer base)?
Our most popular product by far is the Incu-Shaker Mini by Benchmark Scientific. This product is a temperature controlled, orbital shaker most commonly used for cell culture. With a built in incubator, the end-user can control temperature up to 60°C. While these types of shakers are commonplace in life science laboratories, the Incu-Shaker Mini in unique in that it is the most compact incubated shaker on the market. With a footprint of just 11" x 14", the shaker can fit in even the most crowded laboratory space.
The feature that truly makes the Incu-Shaker Mini stand out is the patented Magic Clamp™ magnetic clamping platform. With traditional shakers, end users must undertake the time consuming task of screwing down individual flask clamps and tube racks. Over time, screws can become lost and platforms stripped, requiring the end-user to purchase replacements. With the Magic Camp platform, flask exchanges are instantaneous and tool-less. The platform and clamps are covered under a lifetime warranty to guarantee that they will be capable of securing vessels for the life of the machine.
6. Have you seen growing demand for particular features? If so, do you know the reason behind that demand?
Customers have always demanded an easier way to move between flask volumes. Some companies have adapted a sticky mat solution; however, these typically wear out after a year or so and are not capable of securing vessel at speeds over 150 rpm. The MAGic Clamp™ system from Benchmark Scientific has solved this problem by utilizing strong neodymium magnets to secure vessels up to 3 Liters at a shaking speed of 300 rpm. The MAGic Clamp system is available on all Benchmark Orbital Shaker models.
Have any questions on our laboratory shakers or rockers? Be sure to let us know below!