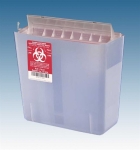 Sharps Containers are an essential item to have in your medical facility for protecting patients and staff. By utilizing sharps containers within your medical facility it allows medical professionals to properly dispose needles and syringes.
By not discarding needles and syringes into sharps containers, it can pose health risks to not only medical professionals and patients, but also the public and waste workers. Sharps can consist of needles, scalpels, broken glass, syringes, capillary tubes, etc. Hospitals, medical facilities and many organizations are required by the Occupational Safety and Health Administration (OSHA) to place sharps into sharps containers that comply with OSHA regulations. The main purpose of sharps containers is to protect employees from sharps that may carry contagious diseases.
It's important for medical professionals to dispose of sharps promptly. They shouldn't be left on the medical tray or out in the open, sharps should be disposed in sharps containers as soon as possible to eliminate potential accidents.
Things to look for in sharps containers: containers should be puncture resistant, leak proof, appropriately labeled or color-coded red to alert others contents are hazardous. Sharps containers are offered in various sizes (typically by US quart), which will depend on your facility's disposal volume.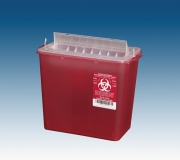 The
8 Qt. Horizontal Sharps Container Red
is a popular item and has touch-less deposit of sharps. This automatic rotating chamber is designed to safely deposit sharps into the puncture resistant container. It can be mounted to the wall with optional wall mounting bracket, for efficient work set up.
Sharps containers are essential for the proper disposal of sharps in any medical application. It's important to keep people safe when working around these items using precautionary equipment, like sharps containers. If you have any questions or comments, be sure to let us know in the comment box below!