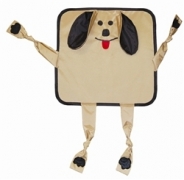 Pediatric radiation protection is important, as it will keep your pediatric patients protected against harmful radiation. Children pose a higher risk around radiation. Since children's bodies have a higher water content, they absorb more radiation compared to adults. Ionizing radiation is used in a variety of medical applications and procedures that children may have to endure, making the proper protective apparel essential.
Staying with ALARA (as-low-as-reasonably-achievable) principles, keeping a low dose of exposure and selecting the appropriate lead blanket or lead apron is important. Damage caused by radiation can be significantly reduced if the right radiation protection apparel is chosen or if the patient is positioned correctly.

Patient shields
, such as the Kiddie Kover Lead Blankets, are a great way to keep your pediatric patients protected. These lead blankets are available in a bumblebee, frog, ladybug and puppy design to help decrease anxiety and fear with a simple "hug" from a friendly buddy. These lead blankets are specifically designed with children in mind and have a 0.5 mm Pb equivalency protection. Another patient shield for your pediatric patients is the Child-Guard Apron for Kids. This apron is ideal for younger patients and provides a safe and secure front protection. This apron also has concealed shoulder pads for comfort and durability and can be easily secured with it's buckle closure. For thyroid protection against radiation the Child Thyroid Collar is recommended and is available in a variety of colorful options, perfect for your pediatric patients.
Keeping your pediatric patients safe against harmful radiation is a must. By selecting a protective apron, lead apron or thyroid collar you're following ALARA principles while offering  pediatric radiation protection. If you have any questions or comments regarding this post, please let us know in the comment box below.