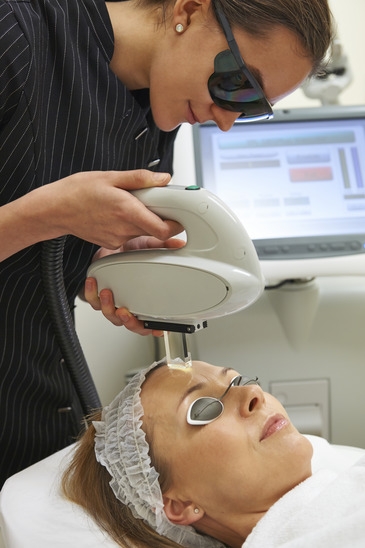 Laser Safety Protection
The responsibility of providing necessary patient laser safety protection for your patients is crucial. During laser treatments, direct or scattered laser radiation can significantly damage your eyes. The dangers and hazards associated with surgical laser systems require safety regulations and policies. This post will highlight the major laser safety precautions necessary to protect your patients.
Patient Safety
An important laser safety measure for patients is properly using patient block out glasses for eye protection. The patient block out glasses (CE certified) are fully adjustable, including a bend-to-fit nose piece to fit a patient's preferences and needs. These protective glasses are stainless steel and unbreakable. Your patients will be well protected wearing these durable eye-cup glasses which also have a non-reflective brush finish and polished interior surface. Common items such as jewelry, watches, and ID badges can create reflections that can create a hazardous environment for both patients and medical personnel. Therefore, it is essential to remove all reflective items during laser treatment procedures.
Patient Block Out Glasses
An important piece of safety equipment, non-reflective patient block out glasses should always be used when performing laser facial treatments close to the eye.
Keep Protective Eyewear Safe And Sanitary
Another cautionary measure is to keep your protective eyewear safe and sanitary. A protective unit, similar to the clearly safe acrylic safety eyeglass dispenser will allow you keep your glasses clean and store multiple glasses together.
Laser Controlled Area Awareness
Patients should be aware of laser controlled areas. It is important to have laser warning signs posted near the entrance of a laser room and the sign should be easy to read. The warning sign should list the type of laser in use and the specific class the laser belongs to for safety purposes. For example, Class 3B and Class 4 are usually used for surgical and medical procedures/treatments. This will also keep unauthorized individuals away from laser controlled areas. Individuals who are operating the laser systems must be adequately trained to do so. Without proper education and training, you can put your patients and other medical personnel at risk.
Laser Safety In Your Facility
Patient safety from laser systems is a crucial component in any health care facility. Many health care facilities have their own laser safety guidelines but the safety measures highlighted in this post should be implemented by all health care facilities that use laser systems. If you have any comments or questions regarding this post, please let us know below!