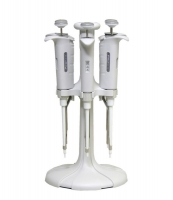 Pipette stands are great accessories for storing your laboratory's pipettes. They will help keep your laboratory organized, which is very important in any laboratory or medical setting. We offer a variety of pipette stands to accommodate both a small and large amount of pipettes.
The Pipette Carousel Rack is a perfect addition to your pipette accessories for keeping your workstation bench-top organized. This rack was designed to accommodate six single-channel pipettes and keep them within reach and ready to use. The freely 360 degree rotating circular pipette rack has been engineered to fit and secure not only the most popular pipette types, but over twenty different pipette brands on the market today.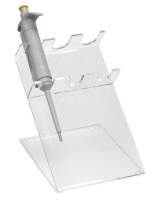 The 
3-Place Clear Acrylic Pipettor Stand
is a convenient and safe pipette storage unit. This unit holds 3 pipettes in a clear, acrylic stand and fits a majority of pipettor brands. The upper slots are 25mm wide and the lower slots are 20mm wide. This stand also allows people to easily see the pipettes rather than having them stored in a closed dispenser.
Pipette stands will not only keep your pipettes organized and properly stored, they will help with laboratory safety. By storing lab equipment and supplies in safe dispensers or organizers, it can reduce the risk of cross-contamination.
Pipette stands can greatly assist in everyday laboratory applications, by keeping a well organized environment. Are you currently using a stand to hold your pipettes? If you have any questions or comments regarding our pipette stands, please let us know in the comment box below.