With the wide variety of laser systems used in health care facilities today, it is important to know how to keep your medical personnel and patients safe from laser radiation. This post will highlight fundamental safety precautions when working with high power lasers and laser systems.
1. Wear Laser Safety Glasses
With the significant damage lasers can cause to your eyes, it is imperative that you are wearing the correct laser safety glasses. Selecting laser glasses is foremost and should directly correspond with the laser you are using. You can find the laser information in the instruction manual or you can consult with your facility's laser safety officer (LSO). The wavelength range (in nanometers) and optical density measurements are imprinted on the glasses to help you match with your laser. Laser glasses should be worn throughout the entire procedure, taking them off during any laser application can lead to harmful effects.
2. Utilize Proper Storage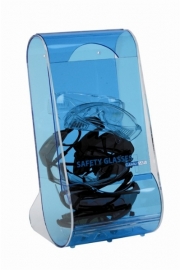 It is important to properly store laser glasses and equipment. Protective eyewear should be stored in an individual case or protective unit to keep from scratches and contaminants. A comparable unit would be the 
Clearly Safe Acrylic Safety Eyeglass Dispenser
, giving you the ability to store multiple pairs safely. When laser glasses are damaged it can compromise the protection level.
3. Follow Standards and Regulations
ANSI (American National Standards Institute) requires health care facilities to follow their laser safety standards and regulations. Many facilities are required to comply with ANSI Z136.3 standards, which are intended for those working with high-powered Class 3B and Class 4 lasers and laser systems. If you're not sure if your facility is following ANSI standards or state regulations, consult with your Laser Safety Officer for information.
4. Work With Trained Personnel
An individual working around high-powered lasers is required to have had proper training and education. Accidents can easily occur in laser procedures resulting in the loss or damage of vision. Well trained personnel will significantly reduce the risk of accidental laser exposure. A trained laser operator will know how to align the laser correctly, making sure to position the laser beam above or below the normal eye levels of seated and standing personnel. The initial machine alignment can take as little as 15 minutes but should be carefully done to ensure the highest safety measures.
5. Use Warning Signs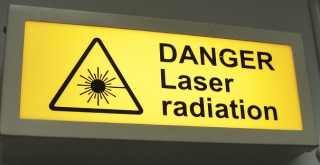 Safety and warning signs can help your medical staff and patients be aware of caution areas in your facility. Throughout your controlled laser areas, easy-to-read signs should be posted in appropriate locations. (i.e. entrance of procedure rooms). You also will want to consider posting signs that indicate the type of reflective gear to avoid wearing during laser procedures. Some of these items include reflective identification badges, jewelry and tools.
Safety measures and policies should be enforced where all high-powered lasers are used. It is critical to keep physicians, staff and patients protected against harmful laser radiation. If you have questions or comments about this post, please let us know below!