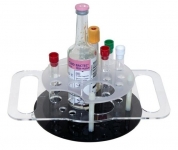 Staying with the laboratory theme from last week, I decided it was important to highlight a few important products for laboratory supply storage. If you've ever worked in a laboratory setting you know that keeping an organized work space is crucial. Storing necessary laboratory supplies properly can make a world of difference in organization and productivity.
Due to the fact that laboratories often require a large number of supplies, work spaces can easily become cluttered and unorganized. Appropriate laboratory supply storage units can keep supplies easily accessible and out of the way. Whether you're working in a laboratory that focuses on medical, scientific or research applications, laboratory supplies are always a must!
Take for example the Phlebotomy Tube Holder, which is a durable acrylic holder with 3 tiers to hold tubes, vials and culture bottles and is commonly used to complete blood workups. Or a simple bandage organizer, which stores and organizes boxes of bandages in any medical facility.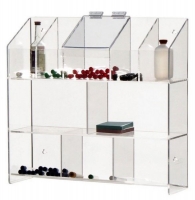 A more detailed laboratory supply storage unit is the
Lab Top Station
, ideal for eliminating clutter in your laboratory setting. This station takes up little work space, is constructed of durable acrylic and can hold a variety of supplies (test tubes, bottles, etc.) Another unique storage unit is the One Tier Rotating Shelf, which is an organizer shelf with the ability to rotate 360 degrees for quick access to items. Storage units can also keep supplies safe and out of harms way, reducing the need to repurchase items that are missing or damaged.
What type of storage units is your laboratory using to store supplies? Please leave your answers in the comment box below along with any questions you may have!