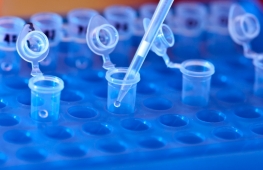 Need to keep laboratory samples at a cool temperature and safely stored for some time? The
CoolCube Microtube and PCR Plate Cooler
is designed to store samples safely on your lab benchtop without sample degradation due to temperature increase or fluctuation.
The CoolCube is easy to use, you simply store samples inside the unit that need to be kept at a cool temperature. This CoolCube maintains temperature at approximately 0°C for up to four hours. The CoolCube should be placed in the freezer overnight and it's ready for use, keeping samples cool and safe without the hassle of messy ice buckets or wet tubes.
This unit is constructed of DuraStar (a high strength polymer) and a patented gel refrigerant. A unique feature about this unit is that it can be used on either side as a convenient PCR workstation with wells for 12 standard 1.5/2.0ml microtubes and one 96 well PCR plate or 0.2ml tubes/strips. The other side can be used to hold 36 standard 1.5/2.0ml microtubes.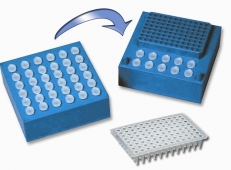 In many laboratory applications, it's important to keep samples at a low temperature for a certain amount of time. This CoolCube is ideal for keeping samples cool and safe while you finish up the rest of your project. This reduces time of placing the samples somewhere else in the lab, with the CoolCube you can simply place the unit right next to you on your benchtop workstation.
What are you using to keep lab samples cool? If you have any questions or comments, let us know below!