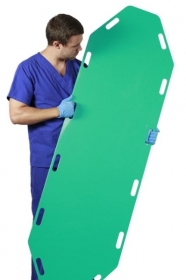 Patients are transported every day within a medical facility. Patient transfers take place for various reasons, often to relocate the patient for further testing or examination. This post will be highlighting the importance of transporting patients safely and how transfer boards can assist in this process.
Patient transfer can oftentimes be a difficult task for medical professionals. Depending on a patient's size and the quality of transfer boards or equipment used, it can create quite the task.
Safety is the key element in patient transfer. Medical facility's aim to create safe patient transfers for both the patient and medical personnel. It's important that your medical staff is equipped with the appropriate transfer accessories for preventing stress on the lower back and shoulders.
Transfer boards can be used when moving a patient from a bed to a stretcher or stretcher to an exam table. Several transfer boards are constructed of polyethylene, many of fabric with rollers on the inside and some are made of sturdy wood. We offer a variety of different transfer boards to accommodate your medical facility's needs. The Static Treated Transfer Board makes transfers over uneven surfaces safe and easy and has an anti-static coating. This particular transfer board is radiolucent so it can be left underneath patients during procedures. The Roll Aid transfer board is a great solution for performing a lateral transfer between two adjacent surfaces. This board will help reduce personnel back injuries by eliminating the need for physical lifting of patients.

Patient transfer is an important technique practiced in medical facilities everywhere. Be sure that your medical staff is equipped with the best patient transfer equipment. How is your medical facility transporting patients? Feel free to share your thoughts in the comment box below!