Untidy laboratories are not only a headache for the employees, but they can be a safety hazard. Unfortunately, messy laboratory work spaces are one of the factors that contribute to the 10,000 accidents that occur every year. Luckily, there is an easy and relatively inexpensive solution to this problem. Organization within the laboratory is key to not only safety, but it also saves time and creates an efficient work place.
One of the best organizational tools available for laboratories is test tube racks. Test tube holders are an easy way to organize test tubes and prevent the test tubes from falling and breaking. These containers also provide a safe way for you to store test tubes, especially when they are being used for on going experiments. For laboratories that run multiple experiments and use lots of test tubes, test tube holders help cut down on the chaos and mess.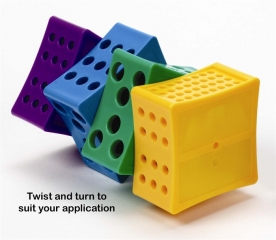 There are many different designs and types of test tube racks available. Here are some of our favorite designs and types:
Interlocking cube racks
Stackable test tube holders
Plastic test tube containers
Interlocking cube racks are a fun, new way to organize and store test tubes. These cube racks allow you to store a variety of different sized test tubes including culture tubes, centrifuge tubes and microcentrifuge tubes, all at the same time. You also have the opportunity to create your own test tube container configuration, since each of the modules are able to rotate independently of one another. The modules also come in different colors which allows for organizing the test tubes with a simple color coding process.
Is your laboratory tight on space? Stackable test tube racks save space with their unique design. They are also perfect for storage in refrigerators, freezers and lab bench tops. These holders can also be submerged under water and without tipping over the test tubes. Like the interlocking cube racks, stackable test tube containers also come in a variety of different colors and sizes.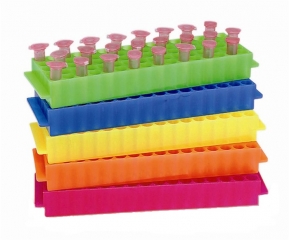 Plastic test tube holders are very durable and are easy to clean. You won't have to worry about these racks chipping, peeling or rusting. Because of their durability, they are designed to handle reuse and can with stand the day to day wear and tear. These plastic test tube containers also come in a variety of sizes and colors.
We hope this post helps inform you on the importance of lab cleanliness and how test tube racks can be an easy way to keep an organized lab!