Proper shielding is essential when protecting against radiation. X-ray aprons come in a variety of sizes, styles, product materials, colors, and patterns. Today we will be focusing on the sizing and style. When selecting an x-ray apron, size and style, are the two leading factors one must consider. A doctor who spends many hours exposed to radiation will have to decide which style of x-ray apron he/she desires depending on the application they are using it in. For example, if a doctor turns around during a procedure, exposing his/her back, then a full wrap around or full skirt and vest apron is highly recommended. If the procedure doesn't involve much movement and the doctor only exposes the chest area, then a frontal apron is appropriate.
Now that you know the style you want it's time to pick the size, and believe me when I say "size really does matter" in this circumstance. Never try to squeeze yourself into an apron or go for a baggy look.  Having an apron that is too big can lead to gaps, which increases your risk of exposure. The extra weight can also be cumbersome. If the apron is too tight, you risk limiting your mobility, which is essential in the operating room.  If fashion is your main concern check out our post on lead apron designs.
Sizing up your x-ray apron is an easy process. First decide the style apron you desire. If you picked a frontal apron then there are only two measurements to consider. The first measurement is your chest size and the second is your length. When referring to one piece aprons your length is the distance from your shoulder to the top of your kneecap. We have constructed sizing charts for each style apron that will give you the most comfortable and safe fit.

For a full wrap around apron you will still be considering your length, but instead of a chest measurement you will be factoring in your suit/dress size for maximum protection and comfort.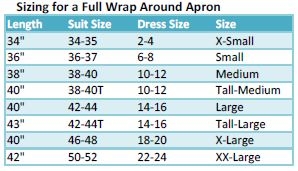 If you are trying to size up for a full vest and skirt apron there are two lengths to think about. These lengths include the length of the vest and of the skirt. The vest length is from the shoulder to a couple inches past the waist and the length of the skirt is the distance from your waist to the top of the kneecap. This will create an overlap for full protection. The last measurement you will need is your suit/dress size.

The full skirt and vest option will give you a stronger custom fit for full protection. It also offers an even weight distribution onto your waist and shoulders reducing stress on your lower back. If there is ever an instance where you feel you are in between sizes always go with the bigger choice for maximum protection and comfort.  X-ray aprons are also designed with buckles and velcro straps for additional fine tuning. Let us know what you think of our post. Feel free to visit our radiation protection page to see a variety of products we offer.