Trying to maintain a sterile environment during an ultrasound procedure? It's very important that all efforts are made to prevent infection and the spread of germs during these procedures and exams. The amount of ultrasound procedures in hospitals and doctor's offices are increasing. We recommend that physicians and medical personnel use sterile ultrasound gel packets for any medical ultrasound application that requires sterile instruments.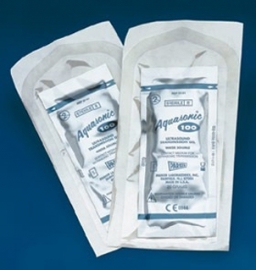 When using non-sterile ultrasound gel in an ultrasound guided procedure, the risk for contamination is increased. The non-sterile ultrasound gel bottle should be squeezed to dispense gel without making contact with the patient's skin. Bacteria can spread if an ultrasound gel bottle makes contact with a patient's skin. To prevent this from happening, it is best to supply your medical staff with sterile ultrasound gel packets. These packets are single-use gels that are packaged in sterilized foil pouches.
There are easy steps for medical personnel to follow to ensure the ultrasound gel is sterile throughout the entire process. It is always important to continue using all sterile techniques in the medical setting. At the top of the ultrasound gel package, simply pull both folds away from one another to open. Without touching the inside pouch, drop the pouch onto a sterile surface (typically on a sterile cart or sterile drape depending on your setting). After the pouch is on a sterilized surface, your medical staff will pick up the packet while wearing sterile gloves. The packet has arrows indicating which side to tear in order to dispense the gel onto the patient or probe. Since our sterile ultrasound gel packet is a one time use only, you should discard the packet in the trash after use.
Always keep in mind the importance of maintaining a sterile medical setting when necessary. These ultrasound gel packets will help prevent contamination and spread of infection that may be caused with non-sterile ultrasound gels.
If you have any questions or comments regarding this post, please feel free to leave a comment below. To request a free sample please click the button below.