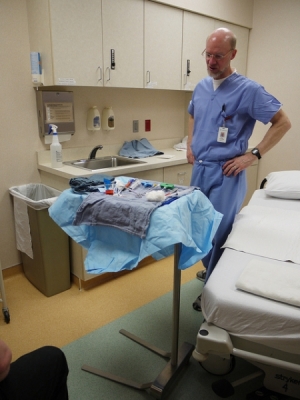 Hospitals today are presented with problems concerning lost and retained surgical tools, taking place in their operating rooms.
These problems are caused by retained surgical instruments in the operating room, which is when a surgical tool is accidentally left behind inside a patient's body during surgery. Another problem is the loss of surgical tools in the operating room, whether they're dropped on the floor or accidentally thrown in the trash.
These problems are occurring for several possible reasons. Many hospitals find that these incidences usually are connected to human error. Operating rooms are known to be very busy environments which can cause distractions, miscommunication and stress to increase productivity. A standardized inventory count process should be enforced among all operating rooms, which involves counting all surgical instruments before and after all procedures. When these guidelines are neglected, the patient's safety is at risk.
Surgical teams rely on the designated personnel to accurately process and record the inventory count. When counts are inconsistent, the operating room staff must perform a recount and if they are unable to settle the counts, they must alert the surgeon right away and start the search process. If the counts remain unresolved, an x-ray is to be taken of the patient. When this process is not done properly, the surgical team is held responsible.
These types of medical errors can lead to legal claims which can result in substantial litigation and hospital costs. Retained surgical instruments also present the issue that the patient will most likely require another surgery to remove the item, which will only add to this cost. Also, when surgical instruments are lost, the hospital needs to purchase replacement tools. Not only are these preventable medical errors costly, they take up valuable time within an operating room's tight schedule.
It is important for hospitals to be aware of the possible liability issues that can occur when surgical instruments are lost. If you have any questions or comments regarding this topic, please let us know below.