IV poles and stands are a familiar item to see in any medical facility, particularly a hospital. IV poles, or intravenous poles, provide patients with a continuous supply of fluids and medicine. IV poles and stands come in all different styles, sizes, added features and are constructed of different materials.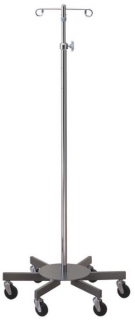 In today's medical field, high quality IV poles and stands are necessary. It's important that IV poles are easy to use and accessible. These stands ultimately help improve patient care, by allowing mobility instead of being confined to a hospital bed or chair.
Our selection of IV poles and stands include chrome IV stands, IV irrigation systems, IV infusion pump stands and stainless steel IV stands. The Automatic Thumb Control Stainless Steel 5-Leg IV Stand is a common stand for various types of medical facilities. This stand is 24" in diameter and has a polished die cast 5-leg aluminum base with wall saver end caps to protect against scuff marks. A unique feature of this stand is its automatic thumb control height adjustment from 67" to 98".
The Lakeside Chrome Infusion Pump Stand: 6 Leg Oversize Base – 4 Ram's Horn Hook is another common IV stand in the medical field. The bottom pole is 1 ¼" diameter chrome plated steel tubing and the top pole is ⅞" in diameter. The 6-leg oversize 26" base offers exceptional stability for heavy duty use. The rubber wheels and casters provide quiet, effortless movement, allowing easy mobility. The height adjustment range for this particular stand is 52.25" to 102.75".
IV poles and stands are important items in the medical field. Be sure to take into consideration the many different styles, sizes, features and materials used for IV stands and poles. If you have any comments or questions, be sure to let us know in the comment area below!