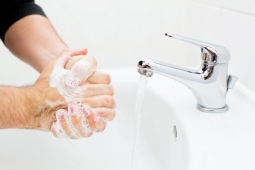 It's the perfect time of year to review some basic hand hygiene tips! As many of us already know, washing your hands before and after you eat, after using the restroom and before and after tending to sick patients is important. Hand washing is simple and is one of the most effective ways to prevent the spread of germs.
Here are a few tips to remember the next time you go to wash your hands:
Remove all rings you may be wearing.
Wet  your hands with warm or cold water and apply soap.
Rub your hands vigorously to create a lather.
Scrub all surfaces, including front, back, wrists and between fingers.
Continue for at least 20 seconds. (If you sing the "Happy Birthday" song twice, that's approximately 20 seconds!)
Rinse your hands well and dry them with a clean paper towel, or air dryer.
If possible, use your towel to turn off the faucet.