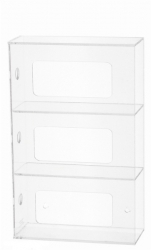 Exam gloves are frequently used in medical facilities every day. Many medical professionals would agree that by having gloves organized and easily accessible really makes a difference in exam rooms.
Disposable exam gloves (also known as medical gloves) are used for a wide variety of procedures and applications throughout the medical field. There are many different types of exam gloves, the most commonly used are latex, non-latex, neoprene, nitrile and vinyl gloves. It's important for your medical personnel to wear exam gloves to prevent the spread of infection and germs.
Exam glove dispensers are an efficient way to store exam glove boxes. These units allow physicians and medical staff to have easy access to them. Glove dispensers can be placed on a tabletop, wall mounted or mounted on glass surfaces using suction cups. Increasing glove utilization throughout your facility will keep your facility compliant with established safety guidelines.
Glove dispensers come in a variety of options. Many are constructed of acrylic, which is a durable material and perfect for areas of heavy traffic. Many are made with a clear acrylic allowing you to visibly see the supplies inside. (Things are always used more when they are visibly stored.) Glove dispensers are offered in two, three and four-glove box dispensers.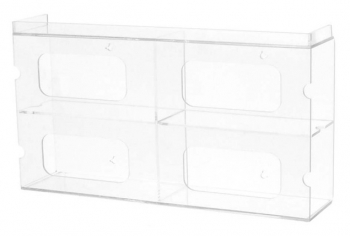 Remember, exam gloves are important and will protect hands from potentially harmful substances and the spread of germs. Glove dispensers will allow you to organize and increase utilization of these exam gloves. Let us know if you have any questions regarding this post!