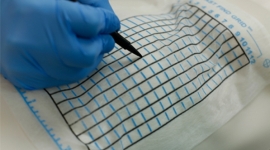 CT guided biopsies are commonly performed in medical facilities nationwide. These biopsies help physicians closely examine an area of the body through CT images to determine precise location. In order to identify other conditions, it's important for biopsies to be accurate.
The Disposable CT Biopsy Fast Find Grid is used for all CT (Computed Technology) guided biopsies and drainage procedures, regardless of the body part. This includes thyroid, lung, liver, abdominal, pelvic and extremity biopsies and drainages.
A particularly important feature is how the grid forms to the patient's body for precise and accurate imaging technique. A few other key features the Disposable Fast Find Grid offers:
1 cm markings across each slice for precise needle placement
Flexible grid material conforms closely to the patient's anatomy for accurate imaging
Disposable grid prevents cross-contamination
Tape strips assure non-slip positioning
Fast, accurate pinpointing of area of concern saves time and money
Radio opaque grid yields a readily identifiable dot pattern on each CT image
Porous grid allows accurate marking of area with felt-tip or marking pen
Latex Free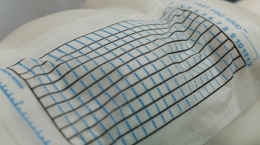 This fast find grid saves physicians and medical professionals time. The grid saves time by increasing the accuracy of needle placement with the 1 cm markings. It also reduces time by having tape strips for non-slipping positioning and being very flexible as it conforms to the patients body with ease.
The fast find grid is a simple, disposable tool that can be used in all CT guided biopsies and drainage procedures and allows accurate results. If you have any questions regarding this topic, please let us know in the comment box below. Looking to try the fast find grid before you make your purchase? We are confident you will be satisfied with the disposable fast find CT grid that we will send you a free sample to try.