Today's featured product is our 3B Scientific Clinical Breast Trainer! This medical anatomy trainer is an excellent tool to improve clinical skills in diagnosis and palpation.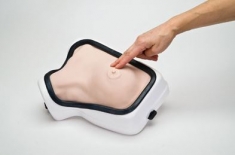 Features:
Five identifiable anatomical anomalies
Fluid filled cyst for aspiration and palpation
2 palpable lumps (approx. 1 cm and 1.5cm diameter) on the lateral side of the breast
Infection in Armpit in axilla region
Lump in tissue above the clavicle
Modular design for simple replacement of skin, cyst, lump axilliary gland
Skin detaches for replacing cysts
Realistic tactile feel
Easy to keep clean
Weight: 1.11 kg (2.45 lb)
Dimensions: 33 x 25 x 15 cm (13.0 x 9.8 x 5.9 in)
This clinical breast trainer is a great medical tool to use for hands on learning. Have a question or comment about our clinical breast trainer? Leave a message in the box below!