What does your laser setting look like?  Is your medical facility utilizing laser safety barriers to keep laser radiation enclosed?
Laser barriers are an essential component to any medical facility that operates high-powered laser systems. Laser safety barriers were designed to enclose lasers into a specific area.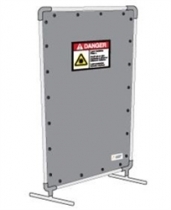 High-powered laser systems are becoming more common in medical facilities today with the growing number of laser treatments and applications. Laser safety barriers will serve as a necessary safety shield, especially if your laser setting is close to a public area or another department. These barriers are designed to protect against both direct and scattered laser radiation.
Your laser safety officer (LSO) will help determine the type of laser safety barrier that will best suit your needs. The LSO will typically identify the exact area that should be enclosed and will calculate the power density from the laser system and distance to create a controlled workspace. Laser barriers should be configured accurately, to ensure full protection.
The mobile laser safety barrier with lockable casters is designed with mobility in mind. This barrier comes with lockable casters allowing you to easily move your barrier if needed. The curtain material found in this laser barrier can withstand 200 W/CM2 with a beam size of 5 mm for 100 seconds. The frame is built of durable tubing with a brushed finish to reduce a mirror-like reflection. This laser safety shield is available in a variety of sizes to accommodate multiple laser work spaces. All laser barriers meet or exceed American National Standards Institute (ANSI) 136.1 Standard: for the Safe Use of Lasers.
Laser barriers serve as an important safety tool for medical facilities working with high-powered laser systems. If you have any questions or comments regarding this post, please let us know in the comment box below!