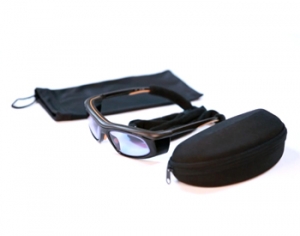 When it comes to laser safety eyewear, our large assortment of laser safety glasses offer optimal safety, function, comfort and style. In compliance with both ANSI regulated standards and OSHA, our dye laser glasses are the ideal safety glasses for your physicians, medical personnel and patients. It is essential that anyone in contact with dye lasers have full eyewear protection, as accidental exposure to laser radiation can cause irreversible optical damage.
When selecting dye laser eyewear, it is important to select the appropriate wavelength range for protection. Keep in mind that dye laser eyewear is not suitable for protection against other lasers like, alexandrite and diode. Our dye laser glasses offer protection for 570-595 nm (nanometer) at 5+ optical density and 583-592 nm (nanometer) at 6+ optical density.
We offer a wide range of stylish dye laser glasses, including goggle, aviator, wraparound and fit over. All of our dye laser glasses are designed with glass lens built into the frame for superb durability and feature purple lenses.  The goggles feature vents to prevent fogging, soft padding and adjustable bands for comfort and side design for maximum splash and fume protection. Our goggles are ideal in any medical application and comfortably fit over existing eyewear. With clear visibility and comfort, they can be worn for long periods of time.
The product line of wraparound dye laser glasses features a lightweight yet durable frame for both comfort and longevity. There are soft rubber nose pads to keep the glasses right in place. In addition, they feature exceptional optical clarity with its large viewing area. The fit over styles are specifically designed to fit snuggly and comfortable over one's eyeglasses. They also offer side protection against fumes or splashes. With its wide viewing area, accuracy is enhanced. Our aviator-style dye laser eyewear is also designed for optimal visibility and is equipped with a rubber nose pad for both comfort and stability.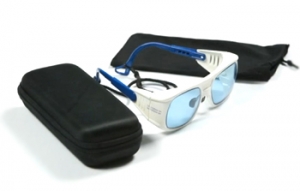 Our dye laser eyewear is the ideal safety solution for your medical personnel. They can be used in a variety of medical settings that uses dye lasers. To learn more about our dye laser glasses, please check out our
laser safety eyewear
section on our website. As always, if you have any questions or comments regarding this post please feel free to comment below.