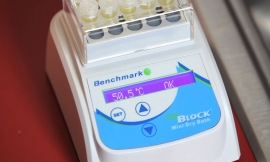 Before we had digital
dry baths
, laboratories relied on analog dry baths to heat samples. Digital dry baths are often considered the next generation of dry baths and are essential in many applications that take place in the laboratory. Many have digital screens with easy-to-see temperature display for accurate readings. We're breaking this post down with a few of our most common digital dry baths.
The MyBlock mini dry bath is a compact digital dry bath that can fit in the palm of your hand! This portable unit has exchangeable blocks, for tube sizes of 0.2 to 50ml. This mini dry bath has back-light display to control temperatures up to 80°C. Keeping a small profile, this unit includes a clear plastic cover allows for enhanced temperature regularity and ramping time.
Another style is the digital dry bath – four blocks, which also encompasses digital accuracy and convenience. This unit has the capacity for single, double and four blocks. This particular dry bath offers temperature and time control, which eliminates the need for an external thermometer or timer. The four block model can accommodate up to 96 x 1.5ml tubes in less than a square foot of bench space.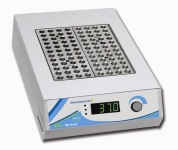 Digital dry baths incorporate a microchip into the unit which allows the temperature of the bath to be controlled through digital interface. The user can change the temperature by simply pressing the up and down arrows on the display panel. These digital dry baths are easy to use, easy to store and essential for laboratory settings. If you have any comments or questions regarding digital dry baths, please leave us a comment below!